Fortnightly Bulletin; 18th January – 29th January
Don't forget to join our closed Facebook group 'Parents of Little Dolphins' – where we share resource links, stories and lots more.


Activity 1: Making telescopes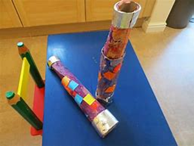 What you will need:
Kitchen roll tube / toilet roll tube / cups

Things to decorate it with – stickers, cut up paper, paint, pens etc.

A4 coloured paper

Sticky tape

Brushes
The method:
Paint / decorate your tubes in any colour / way you like.

If you have painted you tubes – please leave them to dry!

Cut out 3 thin strips using the coloured paper.

Wrap the strips around on end of the tube.
Things to talk about whilst doing this activity:
Measure the tubes, using different things to measure with (Mathematics development – shape, space and measure)

Talk about the colours you are using (Expressive arts and design – Being imaginative)

Ask – What are telescopes used for? (Understanding the World)

Talk about the different tools you are using & how to use them safely (Physical development)
Extending the activity:
Making a pirate eye patch.

Making a Captain's hook.

Pirate role play.

Using real binoculars, telescopes and explore the world around you. (Have a look at the Stargazing guide below)


Activity 2: Pirate treasure maps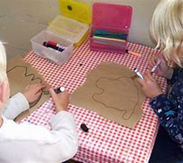 What you will need:
A4 card / paper

Pens

Cold teabag (optional)

Pictures of maps
The method:
Have fun creating your map!

Don't forget to add an X for the treasure.

After you have created you map, you could rip the edges and stain it with a cold tea bag to add a vintage look.
Things to talk about whilst doing this activity:
When looking at the maps – point out different landmarks (Understanding the World – The World)

Pen control – encourage a tripod grip (Physical development – moving and handling)

Talk about the journey the pirates might take to get to the treasure (Expressive arts and design – being imaginative; Communication and Language – speaking)
Extending the activity:
Going on a treasure hunt around your home, garden or on your daily walk!

Creating different types of maps – draw a map of your house, where you live or where you would like to go on a walk!

Make a treasure chest and treasure

Make a necklace, bracelet or a pirate badge

Have a go at making a pirate boat and see if it floats in the bath!
Enjoy this story – Were going on a treasure hunt - "We're Going On A Treasure Hunt" - YouTube
Activity 3: Fruit kebabs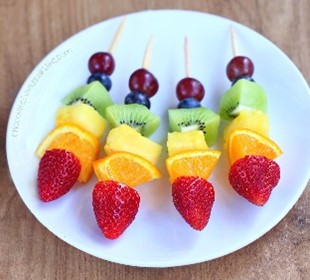 What you will need:
A selection of different fruits (for example; strawberries, melon, grapes, blueberries, pineapple – softer fruits)

A Kebab skewer or wooden stick

A knife (adult supervision at all times)
The Method:
Wash and cut fruit into pieces (If your child is helping to cut up the fruit please supervise them at all times with the knife).

Thread the fruit onto the skewers (remember to talk about hand positioning here, we do not want anyone to skewer their hand).

When finished enjoy as a healthy snack!
Things to talk about whilst creating
Knife safety, how we hold things when cutting etc. (Physical development – Health and Self-care).

Where does the fruit come from? If you can grow any in your garden? (Understanding the World – The World)

Patterns and colours of the fruit, is the skin the same colour as the fruit inside? (Mathematics – shape, space and measure; Understanding the World – The World; Characteristics of Effective Learning)

Textures and taste of the fruit (Expressive Arts and Designs – exploring and using media and materials)
Extending the activity:
Growing some of your own fruits

Make fruit smoothies

Make a dip for your fruit kebabs (our favourite is a chocolate one!!! Not the healthiest one but definitely a yummy one!)

Colour matching activities (find different items that are the same colour as the pieces of fruit you have used)


Activity 4: Science experiment – erupting volcanos.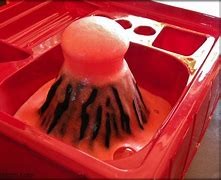 Look out for our video on our closed page on Facebook 'Parents of Little Dolphins'.
What you will need:
For the volcano model:
Two A3 sheets of card

200 ml plastic bottle

Pencil

Scissors

Tape

Paint and paintbrushes
For the eruption:
Small bowl

Cup

1 tbsp bicarbonate of soda (baking soda)

1 tbsp washing up liquid

2 tbsp water

½ cup vinegar

1 tbsp red food colouring
The method:
Have a look at this website for a step by step process and a brief explanation of what a volcano is How to make a volcano | Natural History Museum (nhm.ac.uk)

Place your bottle upside down in the centre of a sheet of card and draw a small circle around the neck.

Cut a straight line through the card to the middle of the circle, and cut it out.

Overlap the two sides of the card to make a cone shape. Tape this into place, leaving a hole where you cut out the circle.

Cut around the base of the cone so that it sits flat, but make sure that it is still taller than your bottle.

Place the cone over the bottle. Tape the top of the paper cone to the neck of the bottle to hold it in place. Tape the base of the cone to the other sheet of card.

Use paint to decorate the cone and make it look like a volcano. Allow your model to fully dry.

In a bowl, combine the bicarbonate of soda and washing up liquid. Add the water and mix thoroughly. Pour this mixture into your volcano.

In a cup, mix together the vinegar and food colouring.

When you're ready, pour the vinegar into the bottle with the bicarbonate. Wait for it to erupt and watch how the lava flows.

Experiment with different amounts of bicarbonate and vinegar and see how the volcano's eruption changes.


Some extra ideas and activities:
Creating a pirate themed obstacle course

Create your own pirate flag (pdf)

Make a pirate hat

Pirate colour by numbers (pdf)

Dress your own pirate (pdf)

Pirate treasure hunt game (pdf's)

Pirate I spy and counting activity (pdf'd)
Stories & Songs:
Other links:
Mermaid tales; Fridays @1:30pm
https://www.national-aquarium.co.uk/learning-at-the-aquarium/home-learning-sessions/?fbclid=IwAR1gYAR4CPxRJBTgqAh28ykyPq0oFJG8uV3byVcVziou6mmmFKP5Wwl7F_A
Stargazing beginners guide
https://www.forestryengland.uk/resource/beginners-guide-to-stargazing
Free Julia Donaldson activity packs:
https://resource-bank.scholastic.co.uk/search/search?search%5Bage_id%5D=40&search%5Bquery%5D=Free+Julia+donaldson
CBeebies – The great pirate game:
https://www.bbc.co.uk/cbeebies/games/swashbuckle-the-great-pirate-games?collection=games-you-may-have-missed
We hope you have great fun exploring all of these activities and links… we would love to see some of your activities (upload them to Tapestry).